Post by Randy Zerr on May 13, 2009 23:25:10 GMT
This expedition was undoubtly the most enjoyable CP excursion I've had. Meeting up with other CP aficionados in the field makes the trip all that more fun.
May 7- the first stop was the usual Dionaea garden in the panhandle to meet up with Al Marmelstein and Jerry Addington who were driving westward. I made one quick check of a nice D. filiformis var. tracyi patch along the highway to get some photos of open flowers.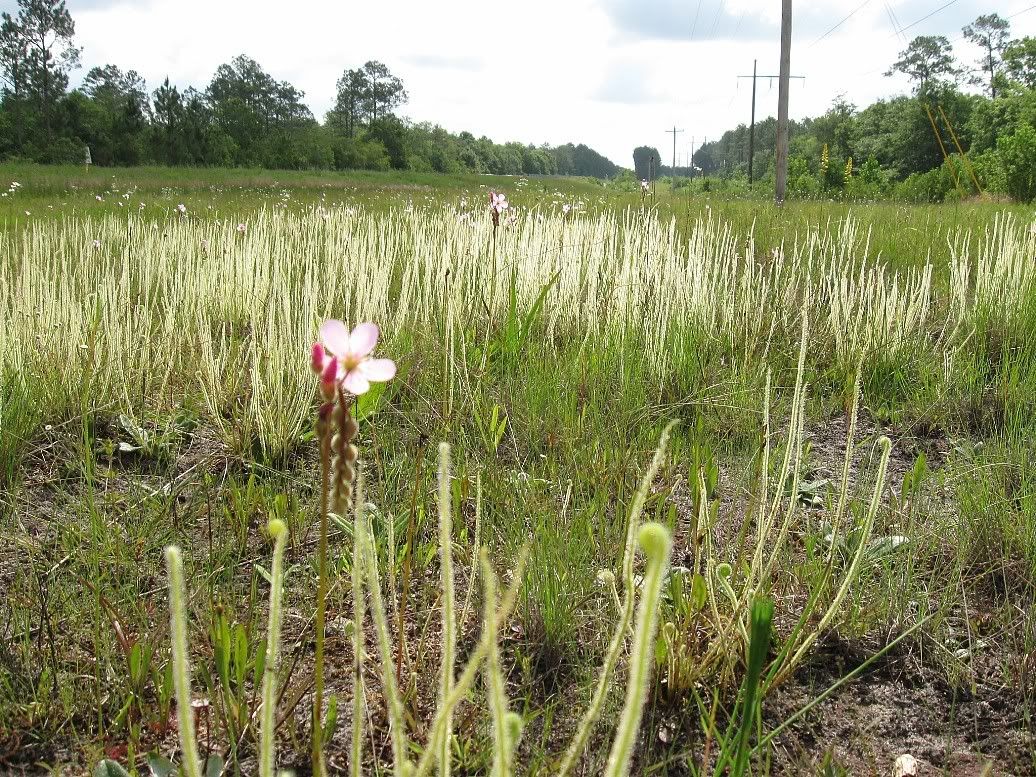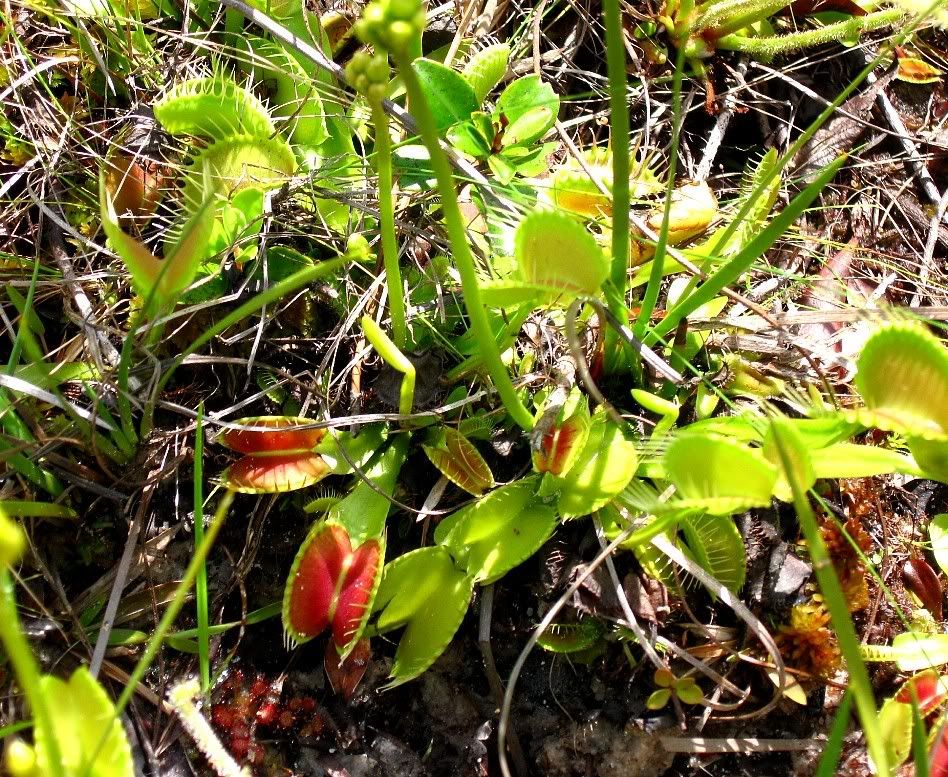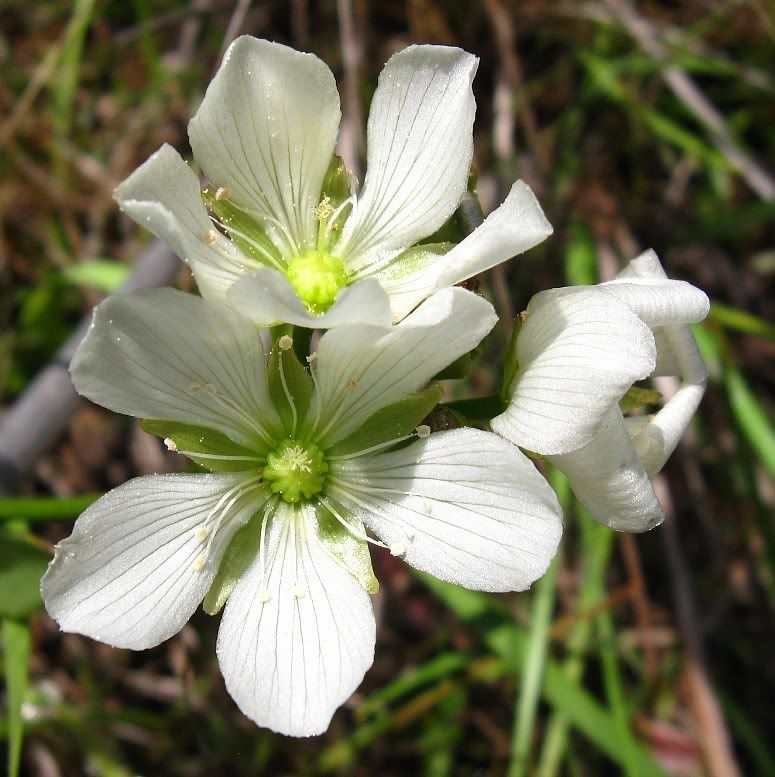 We all forgot about the 1 hour time change across the Apalachicola River messed that up but coordination via cell phone changed plans to meet in the town of Sumatra.
I spent an hour or so taking video and photos of the VFT's and headed south through Apalachicola National Forest to try to find Al and Jerry who were busy exploring along the highway. This is Jerry's first time to Florida seeing native carnivorous plants. Cell phones do not work in this remote region and by luck ran into Al and Jerry on the road in Sumatra. Pulled over at the town store to greet and talk about the plans when a lady named Virginia walked by who overheard our conversation and inquired what we were doing. It turns out she was just as odd as we were out poking around the bogs looking at weird plants and taking pictures. What are the chances accidentally meeting another enthusiast in such a small town at such a brief moment?
We invited her to accompany us on a nearby exploration and to my amazement she was very knowledgeable of area CP populations and knew of two other naturalized Dionaea sites nearby that I only had vague directions to and would probably never find on my own.
More surprises were in store when a heavily traveled trail was found at this location and Virginia explained that it is popular with both the local schools and wildflower enthusiasts who come by the busloads to see both the Venus flytraps and extensive pitcher plant population. Afterwards we set out to find a Sarracenia minor site nearby that I was given directions to. Jerry and Al decided to skip this and headed for Panama City. Virginia & I searched the forest for signs of the hooded pitcher plants, which are rare this far west. After 10 minutes at the supposed location, no Sarracenia could be found. I opened my mouth 5 seconds too soon and blurted "this is a big disappointment" then turned my head and saw the flowers and pitchers of S. minor above the grass in the distance and let out a joyful shout with my foot hanging out of my mouth.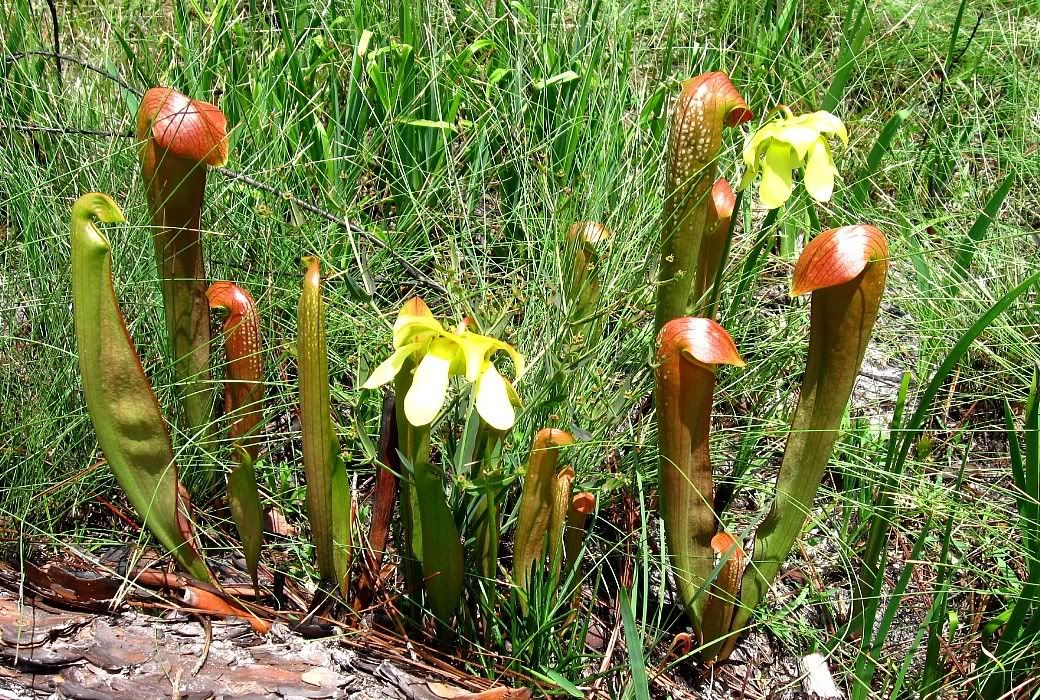 Sarracenia minor near Sumatra, FL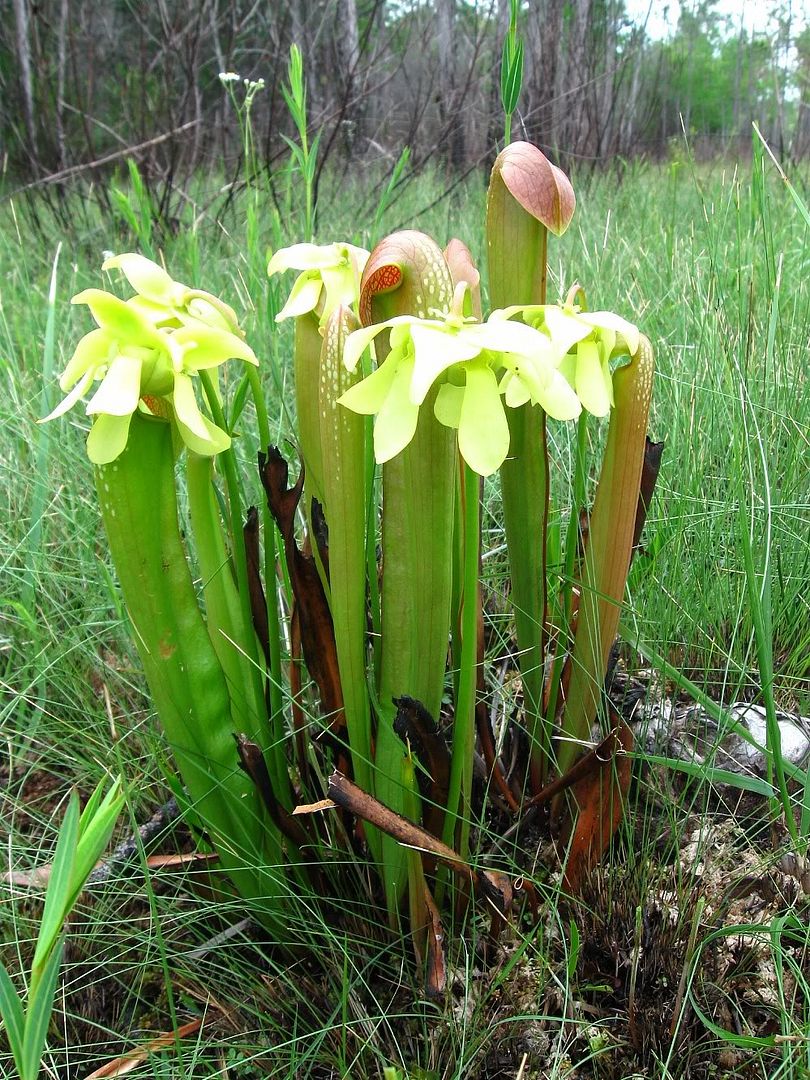 Sarracenia minor near Sumatra, FL
30 minutes exploring this site proved it to be quite extensive with scattered S. minor and a few flava & psittacina tucked away in the far reaches. After this I bid farewell to Virginia, returned to Sumatra for the all you can eat Apalachicola shrimp meal at the Family Coastal Restaurant that Al recommended. Great choice Al ! Small town restaurants ran by folks who care with locally caught fresh seafood just cannot be beat.
The gal working in the restaurant was curious about the rubber boots and what I was doing out here. The store was empty and she was bored. "You mean those plants grow here"? She said that several times as I explained our purpose. Re-energized and appetite well satisfied I set out to explore some back roads for new CP populations. Very productive but nothing new or unusual found. Just many of the regular CP's in healthy, extensive bogs that I've not seen before. I did find Pinguicula ionantha in a savanna north of Sumatra that may be a new location but did not explore extensively at this site as the bug biting and buzzing factor was nearing level 10 and I had to break out the mosquito netting. It was late afternoon.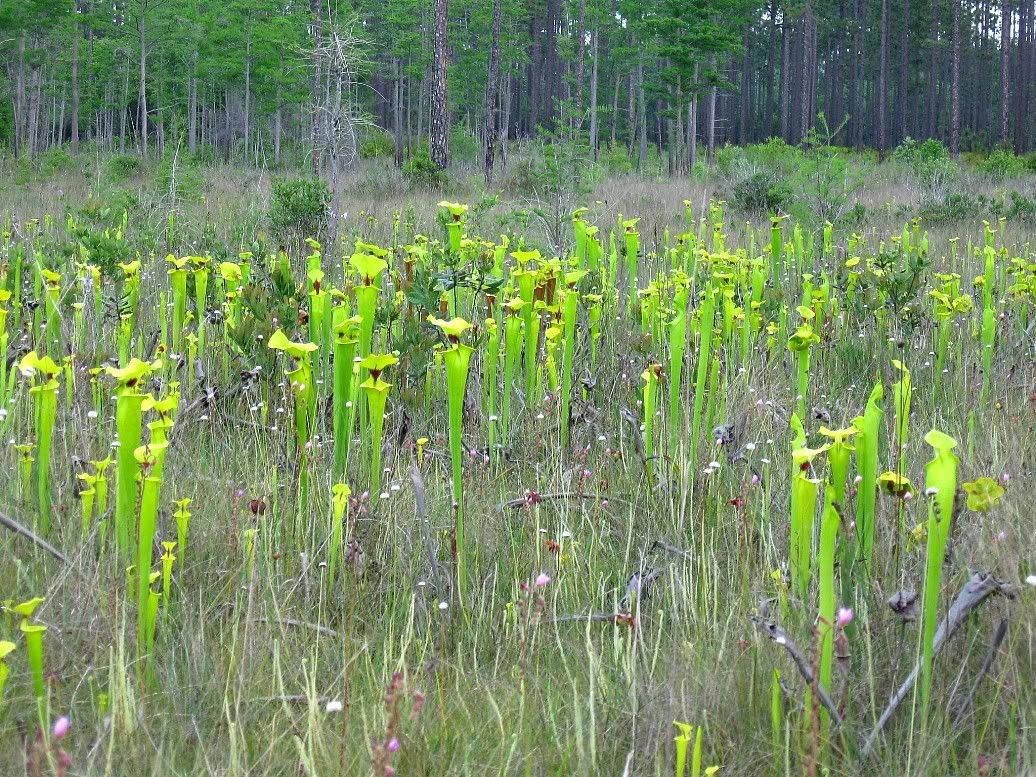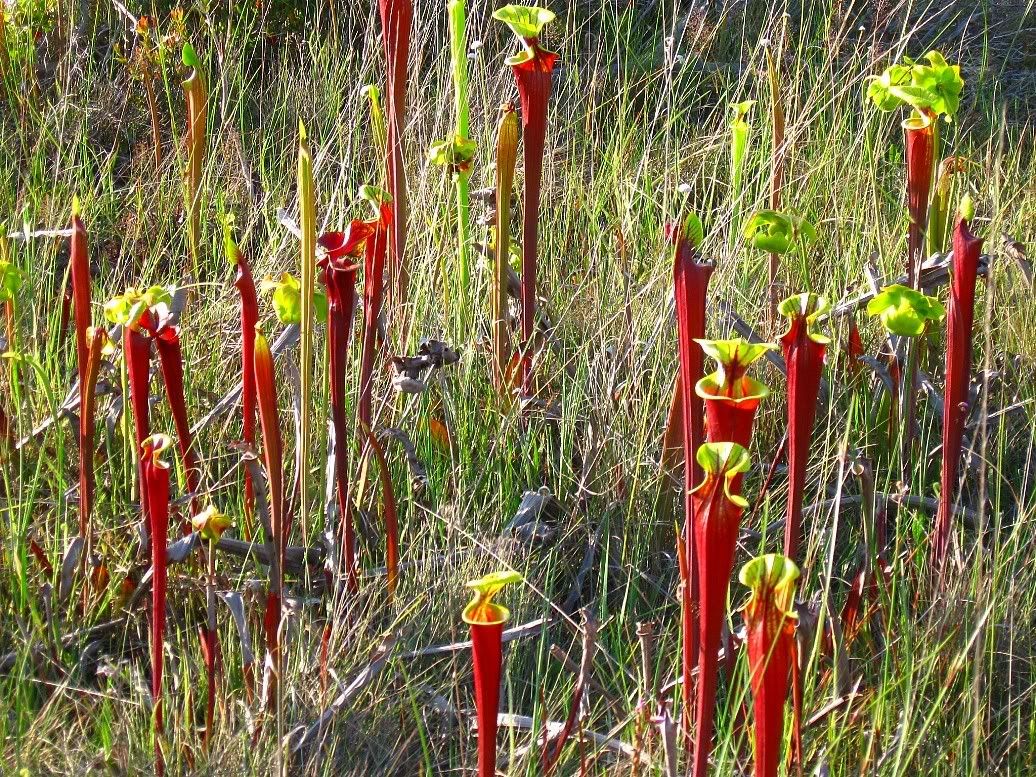 S. flava var. rubricorpora
Pinguicula planifolia
The next plan was to meet up with Jerry and Al again joined by Makoto Honda in the morning. They all stayed in hotels in Panama City while I camped out at a nearby lake. Far from the bloodthirsty bugs of Apalachicola. In the AM the four of us explored a nearby extensive wet, sandy seep with rare plants that made it look like vegetation you might find on another planet in a sci-fi movie. Brilliant red Drosera filiformis in full bloom surrounded by a carpet of equally red Pinguicula planifolia and Drosera capillaris all glistening in the morning light. Bright yellow Utricularia flowers and a variety of other plants not seen elsewhere added color to the bright white sand.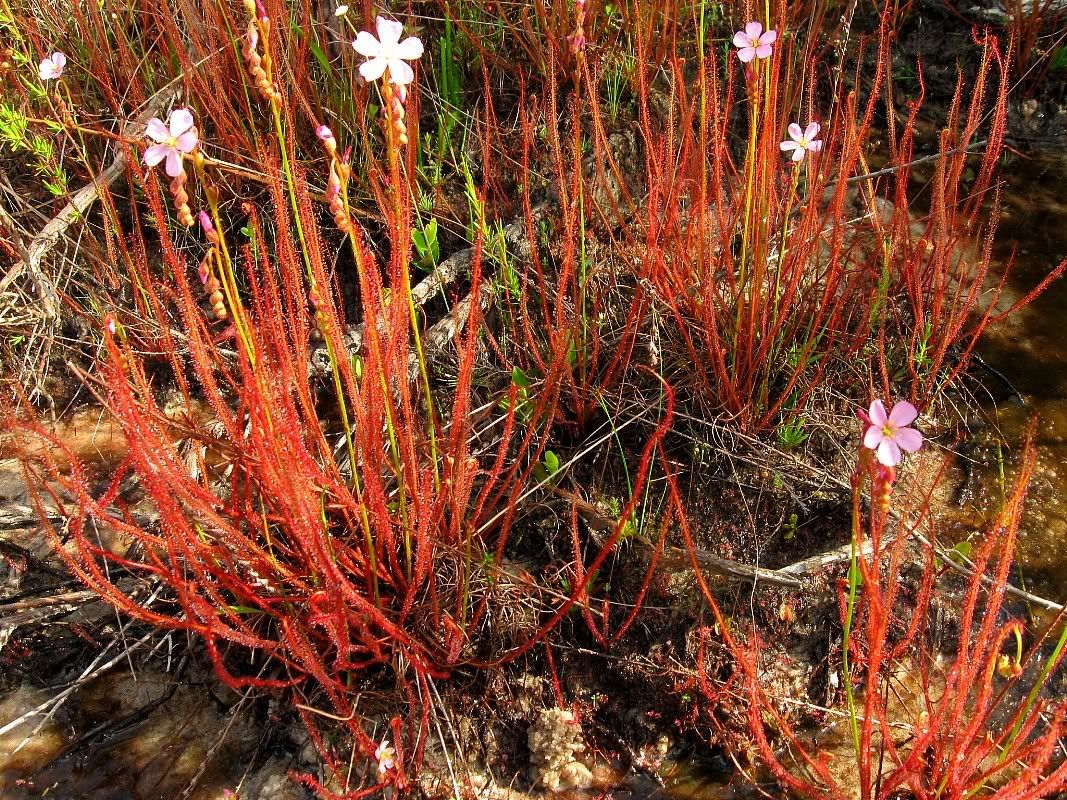 D. filiformis 'Red'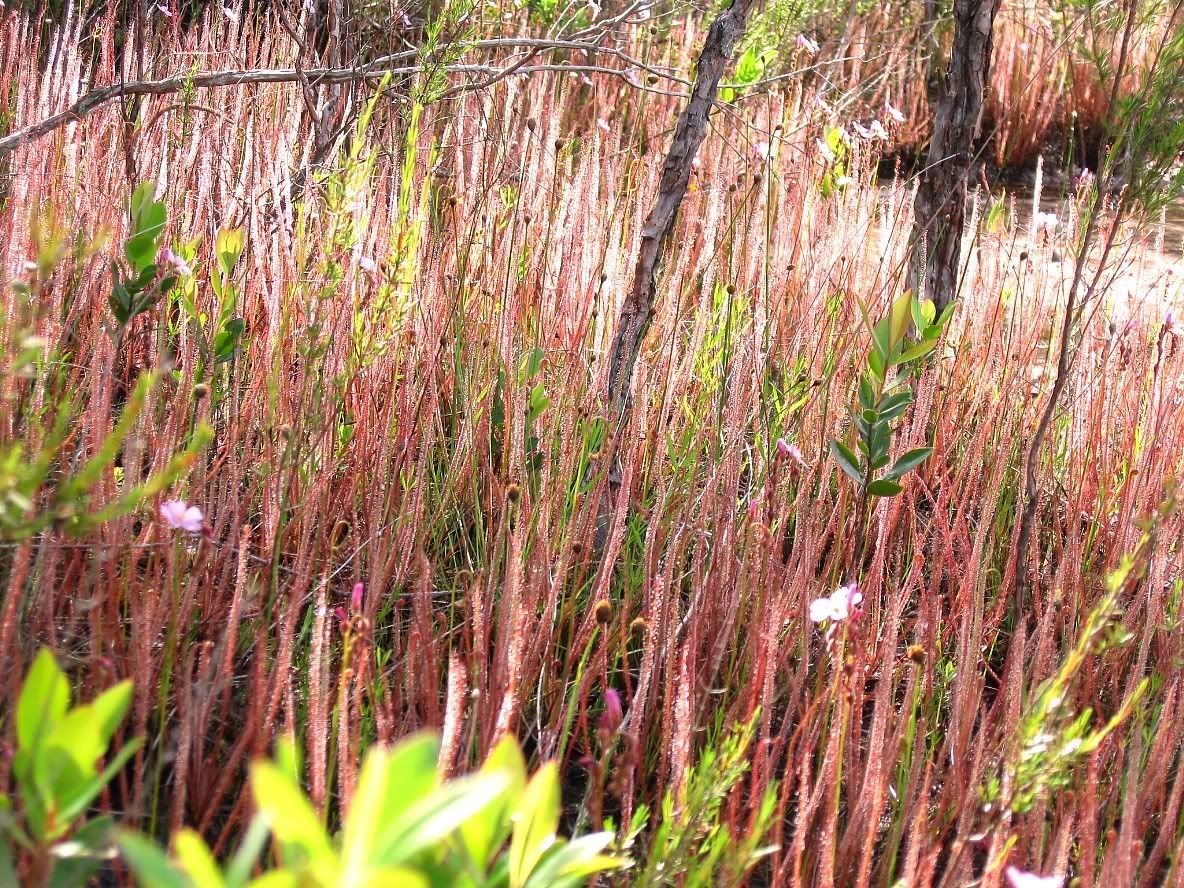 D. filiformis 'Red'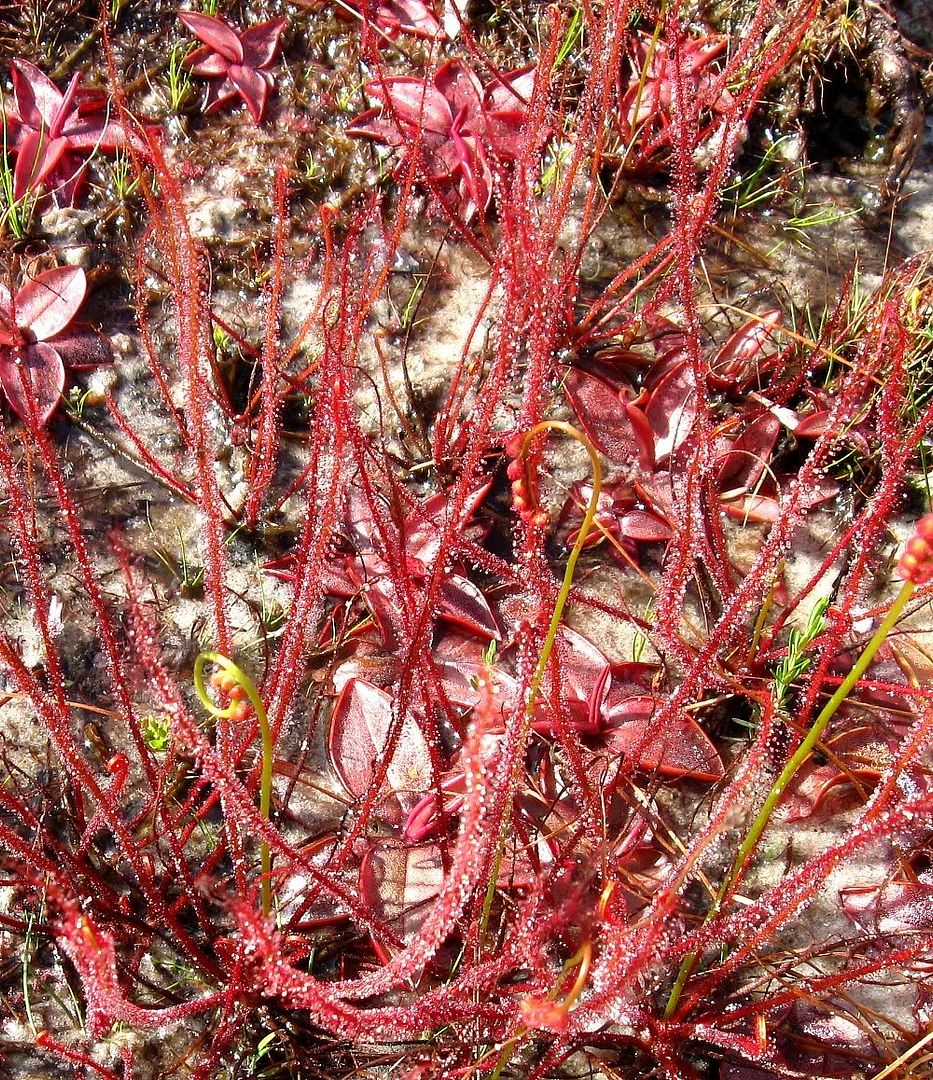 D. filiformis 'Red' with P. planifolia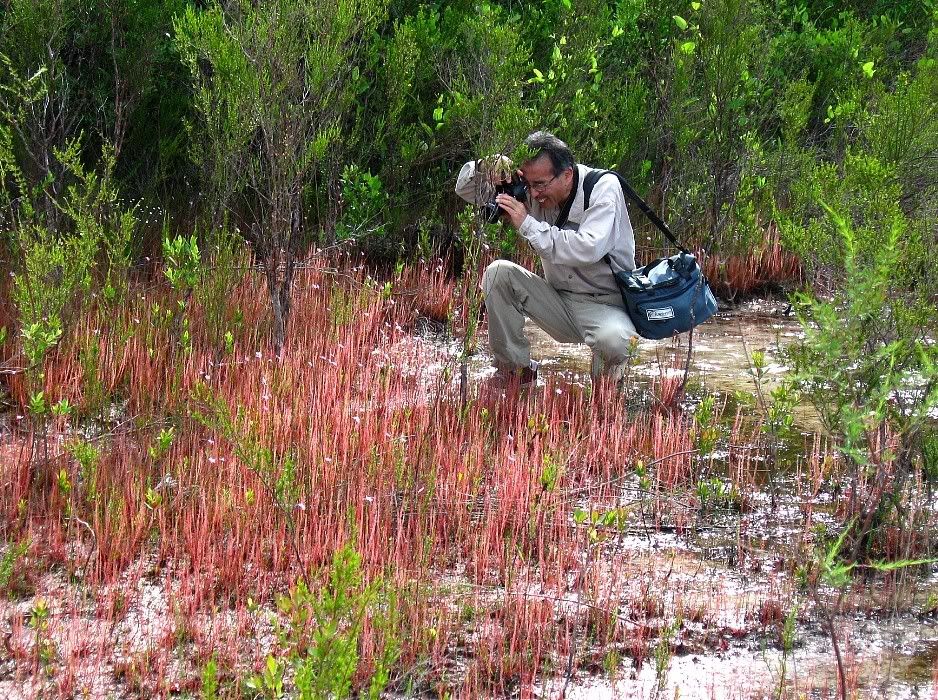 Makoto Honda
Jerry and Al bailed after this and Makoto and I set of to another filiformis site that I found last spring. Last year 75% of this habitat was explored over a 4 hour period. Red Drosera filiformis are very abundant. Last spring I shared this location info with one other and I've lost our emails and forgot your name. If you read this, you deserve credit for finding the isolated patch of D. tracyi that is mingling with the filiformis and hybridizing. As far as I know, this is a first, and in the 25% that I did not explore last year I too saw the 50/50 mixed plants which myself and Makoto believe are natural hybrids of the two species.
More of this are in another forum thread.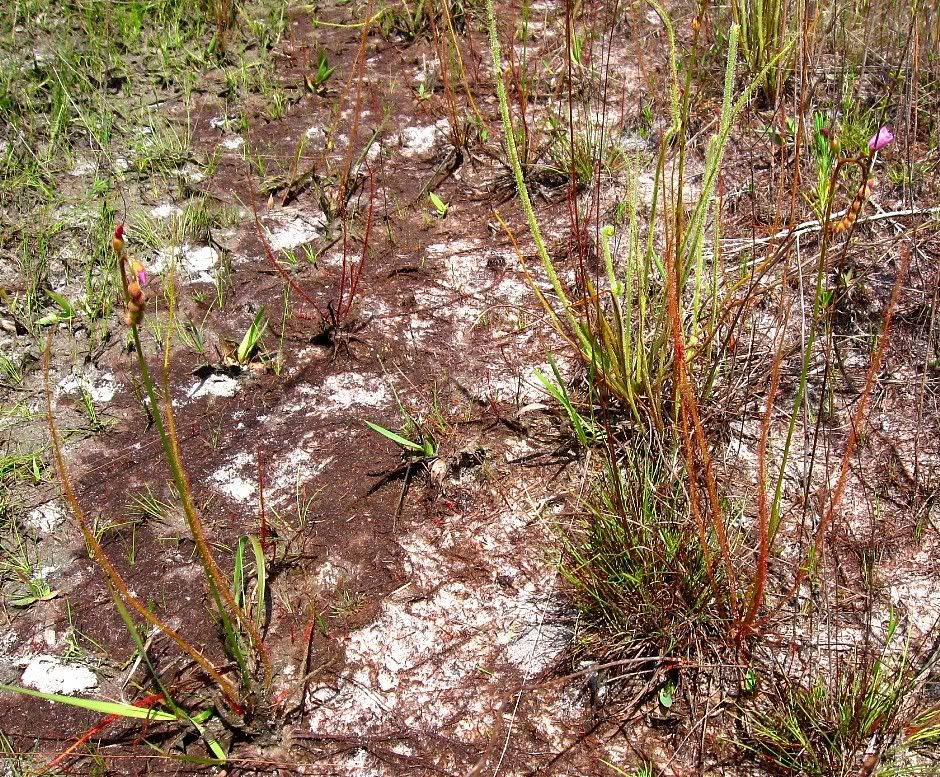 D. filiformis 'Red', var. tracyi, and an intermediate hybrid
We left this site and headed west to Eglin. Examined & photographed the unique Sarracenia rubra "Green Giant" of which a few were still flowering.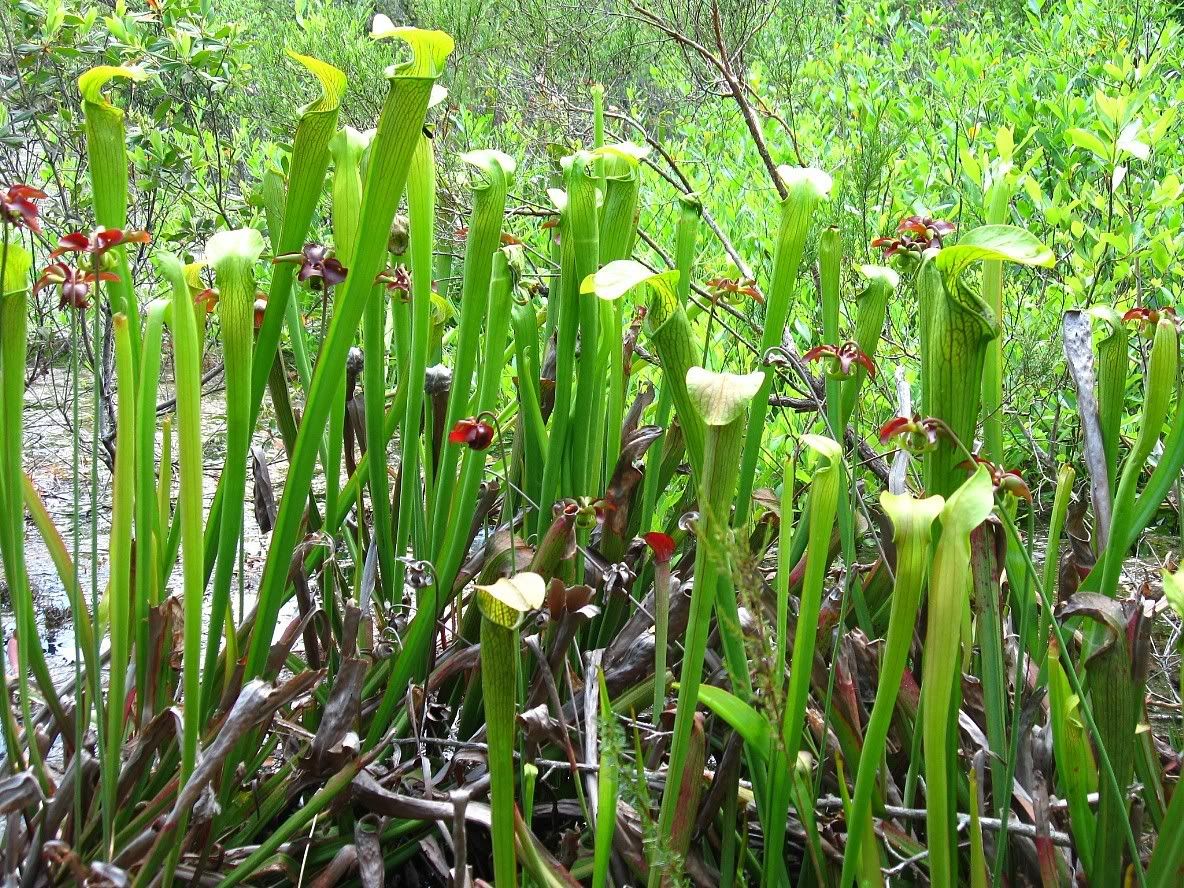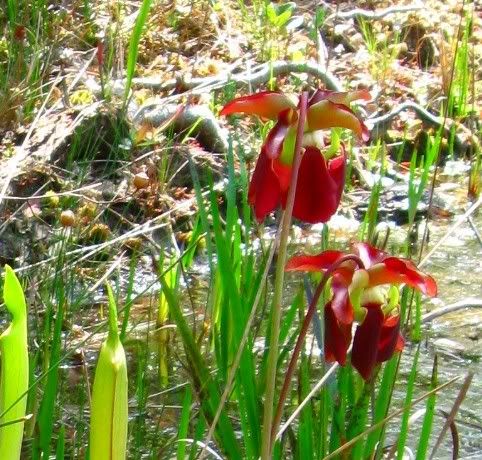 Afterwards I led Makoto to a Pinguicula primulifora habitat so he could observe one of the few species that has evaded him in his 30+ years of CP explorations. We were in luck, as many of the plants were in full bloom. It was getting late. Makoto was waist deep in swamp muck and water, sunburned, dead tired, but grinning ear to ear.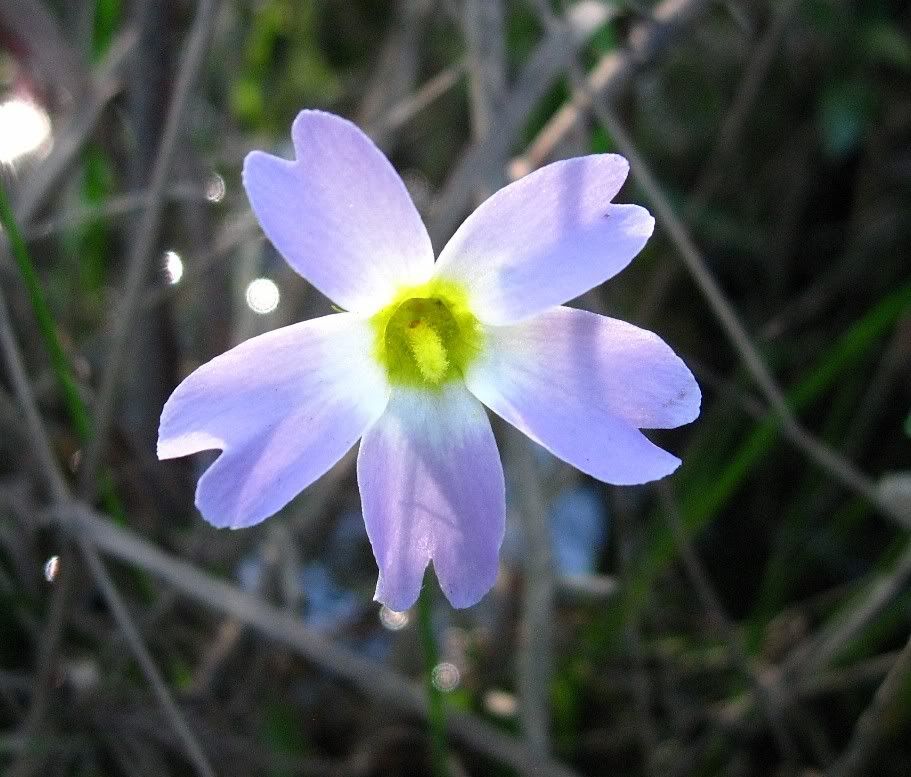 Pinguicula primuliflora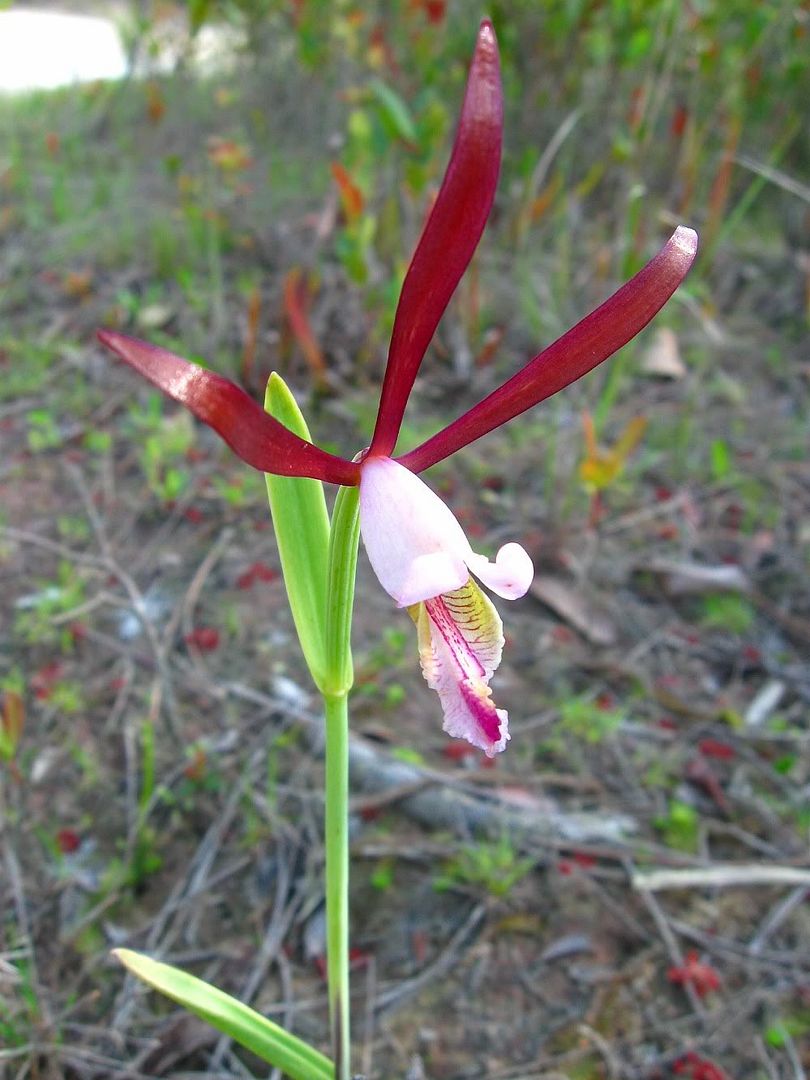 Cleistes bifaria
Saturday morning I offered to show Makoto Utricularia floridana. We met up took my two kayaks to the pond where the plants thrive. Unfortunately they were not in flower yet. Another week or two to go.
We then went to another nearby bog within minutes from the house that contains a wide variety of CP's. The site is in need of a good burn that will probably never happen due to proximity to homes and industry but through the brush and wiregrass we saw Pinguicula lutea, planifolia, Sarracenia leucophylla, flava, rosea, psittacina, hybrids of flava x leucophylla, flava x rosea, rosea x leucophylla, Drosera intermedia, capillaris, tracyi, Calapogon, Pogonia and Cleistes orchids, and the giant sized Utricularia purpurea (not blooming). This is also the only location I have seen Utricularia olivacea. Unfortunately none could be found this time. Not even the stems. Also here but not seen is Utricularia striata.
Afterwards lunch from 790 North, a local small seafood restaurant. (shrimp not nearly as good as in Sumatra) Then back out to Eglin to a site I had talked about with Makoto that borders a small lake and has a healthy population of Pinguicula primuliflora and Sarracenia rubra ssp. gulfensis. With the kayaks we were able to explore this location extensively that I had previously only looked at on foot. Here half of the lake is clogged full of various aquatic plants including at least 3 Utricularia and floating colonies of Pinguicula primuliflora clinging to organic debris and some kind of brown algae. I've only been here twice in 12 years and new discoveries included only the 2nd site of U. floridana & large flowered U. purpurea in the open water and a yellow flowered Utricularia anchored in soggy peat on the edges. We debated over the identification of the later thinking we had U. intermedia or U. gibba. U. intermedia does not occur in the South? The plants had thin scapes up to 6-7 inches tall with 2-6 yellow flowers maybe 1 cm across, dimorphic branches with bladder bearing stems mostly in the muck and fernlike branches on top and out into the open water. Distinctly different from the larger, more aquatic U. floridana.
Pinguicula primuliflora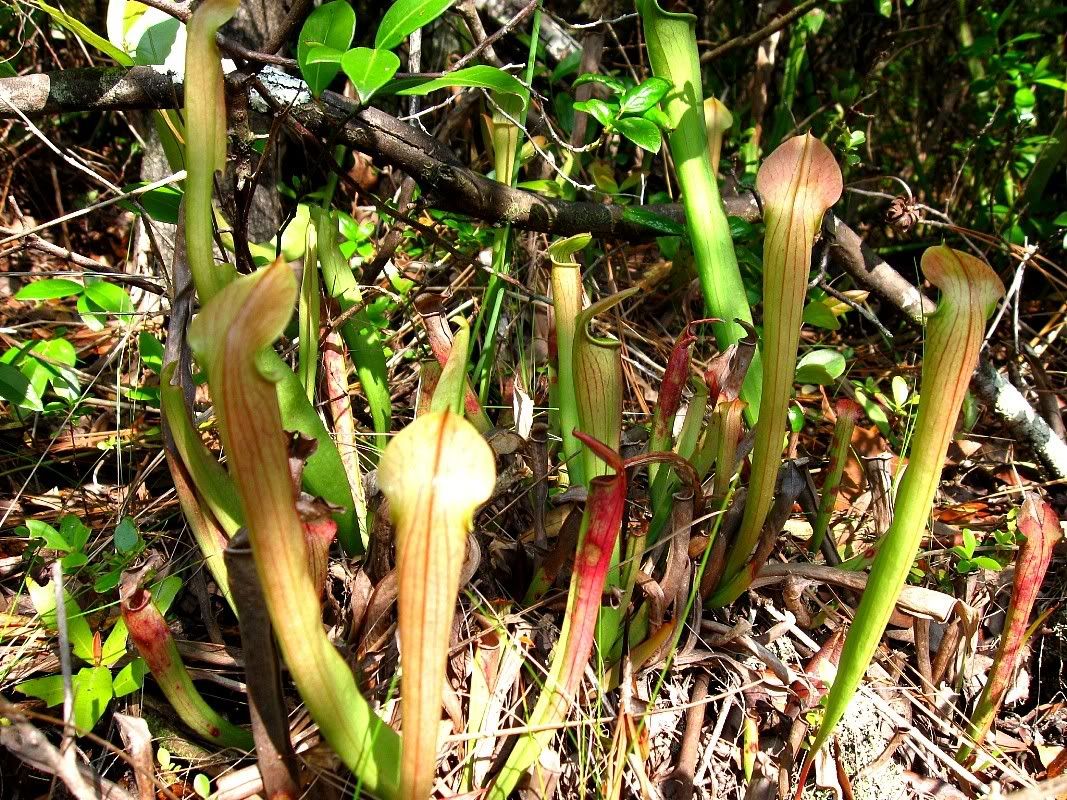 S. rubra ssp. gulfensis typical plants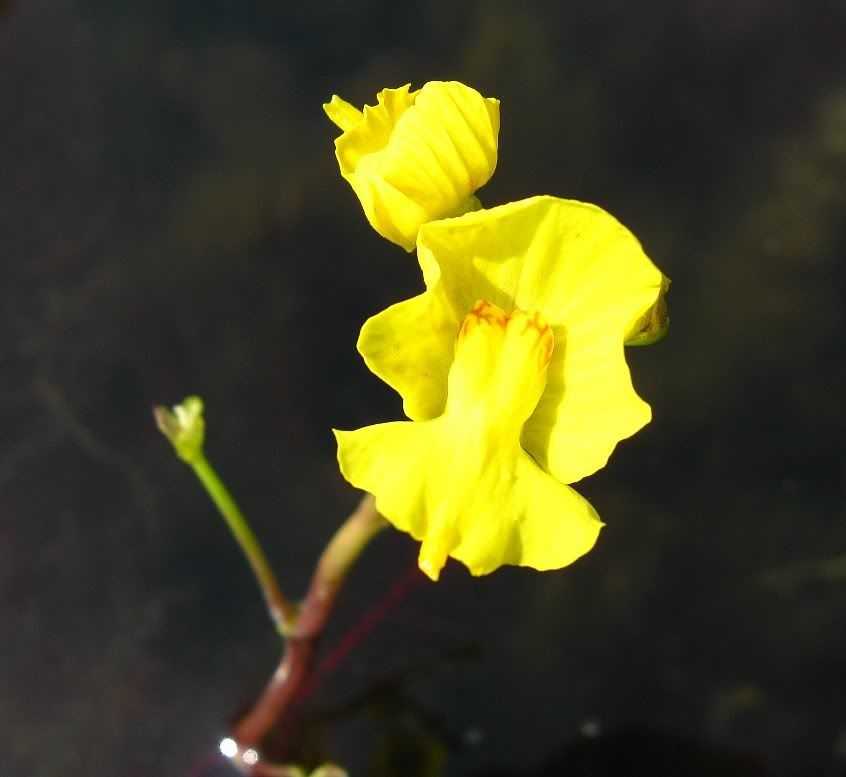 U. floridana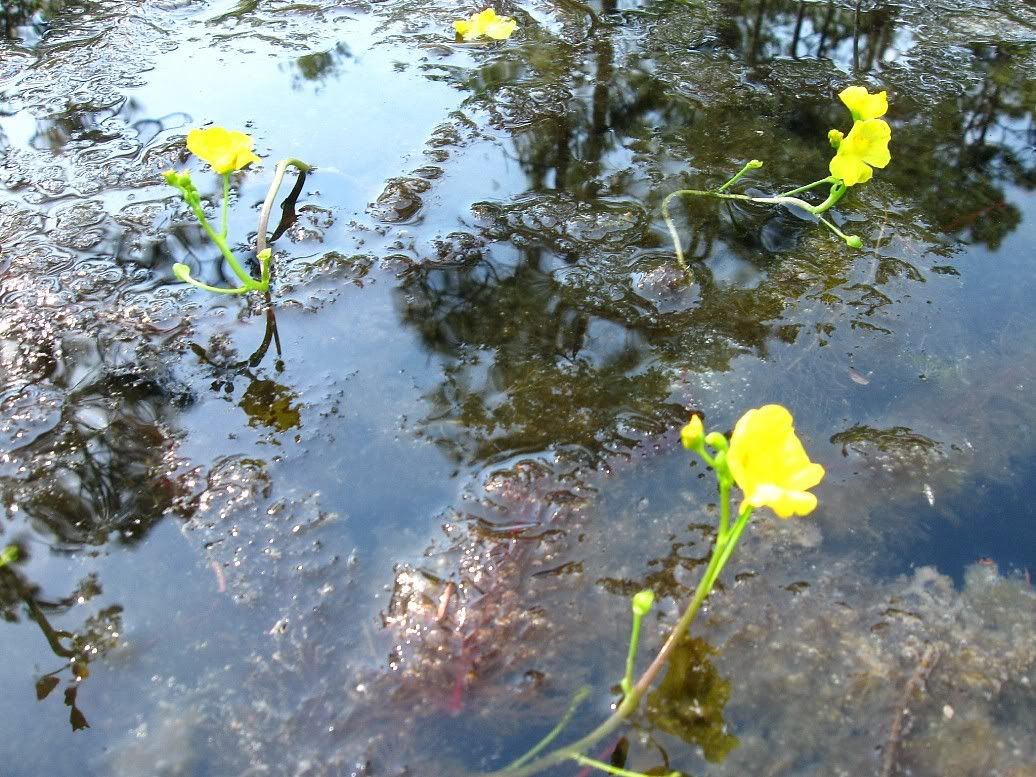 U. floridana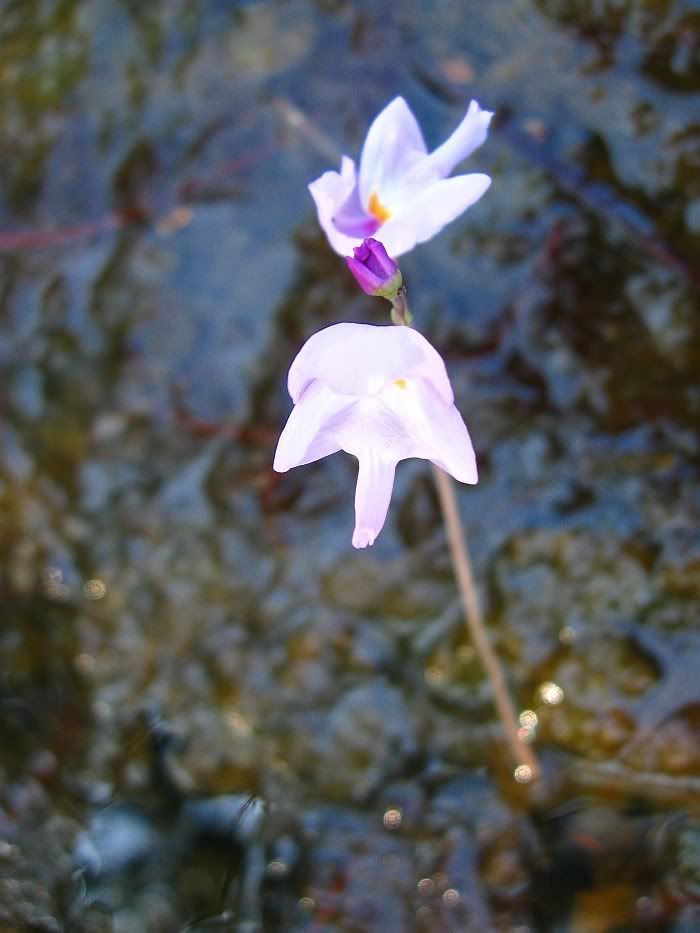 U. purpurea large form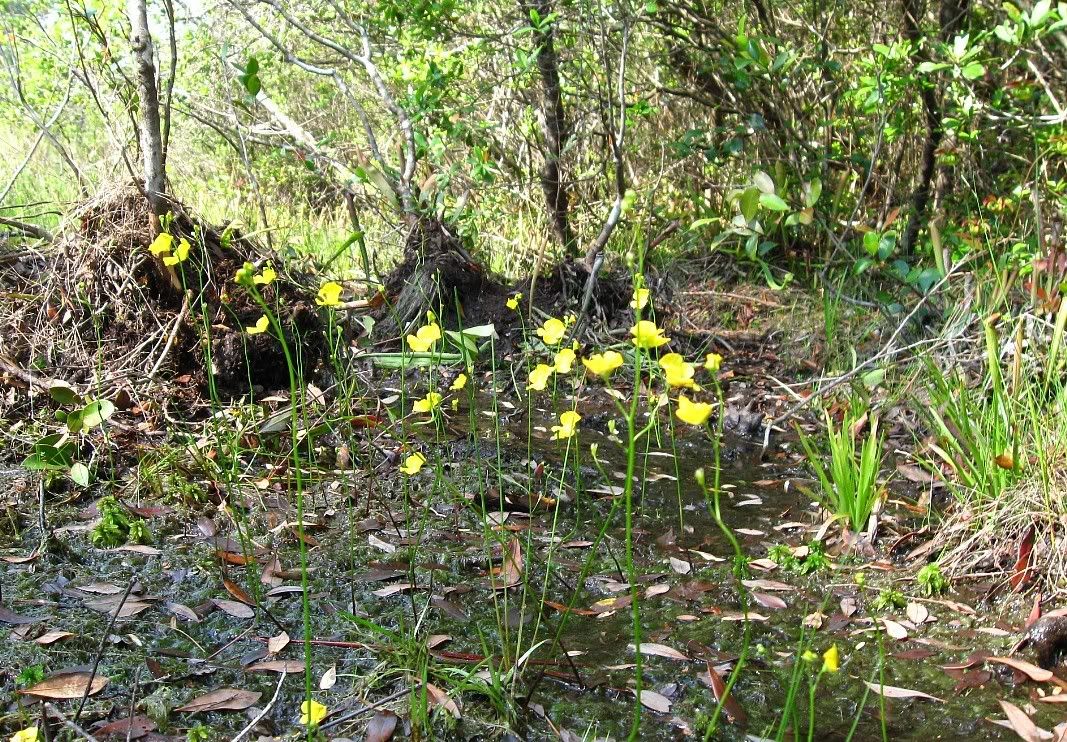 unknown semi-terrestrial Utricularia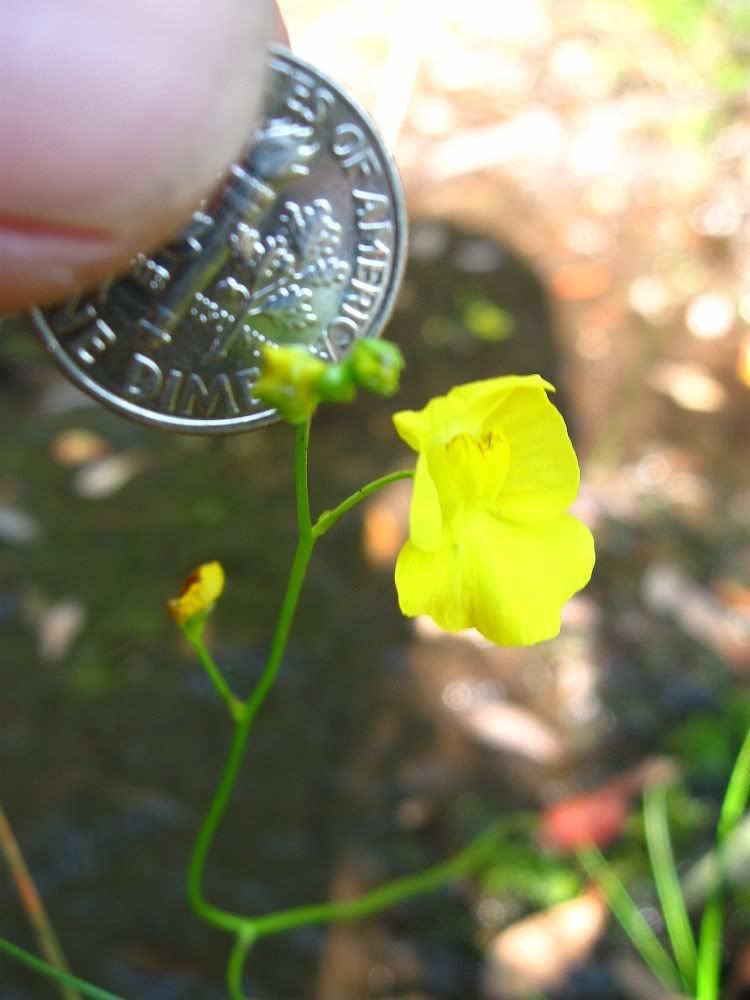 unknown semi-terrestrial Utricularia
Identifying Utricularia has always been challanging and often each site the plants that are presumed to be a certain species are different from those at other habitats. To ad to this endless variation in CP's... The Pinguicula primulifora 6 miles away are in full bloom, while those at this site are not or even close to flowering. And the U. floridana here are blooming while those at the pond in town are not yet. Ditto for the U. purpurea.
It was very enjoyable meeting Al, Jerry and Makoto and showing some of the nearby CP habitats. It's been 9 years since another ICPS member has joined me in the field and I'm looking forward to the next!