Post by mbfmark on May 22, 2012 0:40:51 GMT
Well its the 3rd week in may and all the Sarracenia have finished flowering now and are starting to put up some nice pitchers. Here are some new photos of various plants in my large outdoor bog, including sundews and others.....
We'll start with the S. purpurea ssp. venosa var. montana - two plants from the same seedling population with different coloring. They grow next to each other so light intensity is not the factor in their coloration.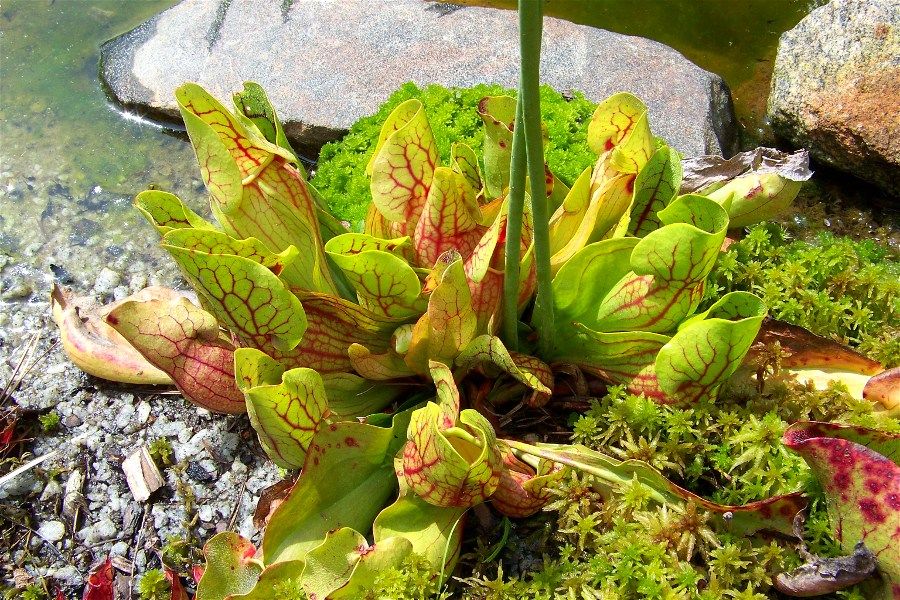 The wonky bloom stalk on this one is a result of the weight of the mesh bag I used to try to prevent natural pollination so I could make my own cross. However, a vicious caterpillar thwarted my attempts by devouring the entire ovary of the flower - he must have crawled in when tiny enough to fit through the mesh. Darn!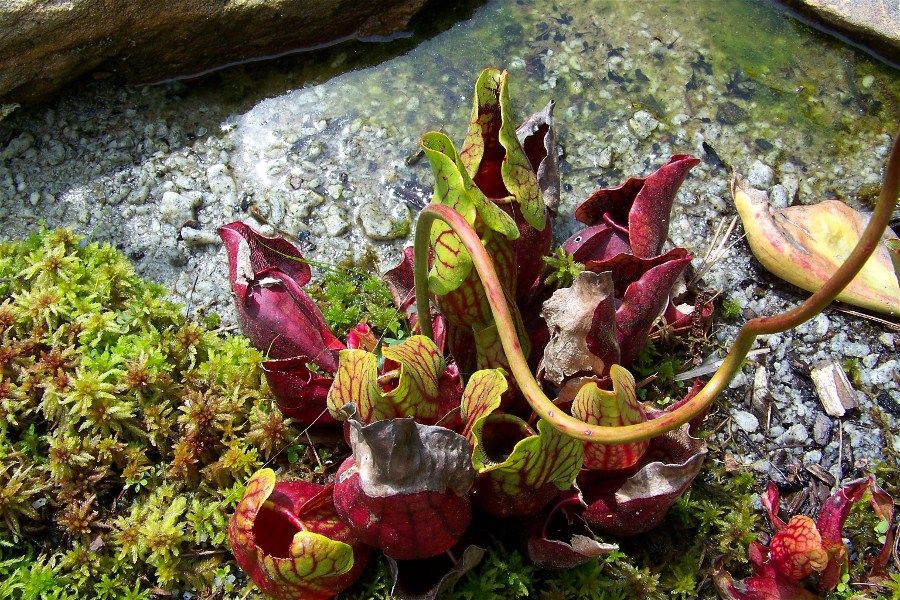 S. flava raised from seed from the ICPS Seek Bank. About 2/3 of the plants that resulted have nice coppery lids! These are just in their 3rd season.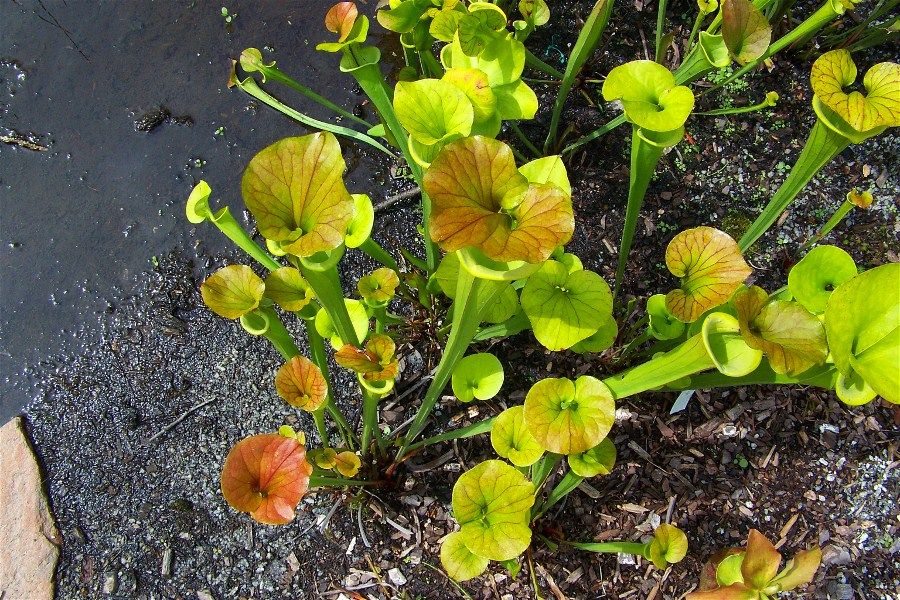 S. x excellens (leucophylla x minor) - This plant come from one of the online vendors, but I can't remember which. Last year it was just settling in, so these are the best leaves so far. I like!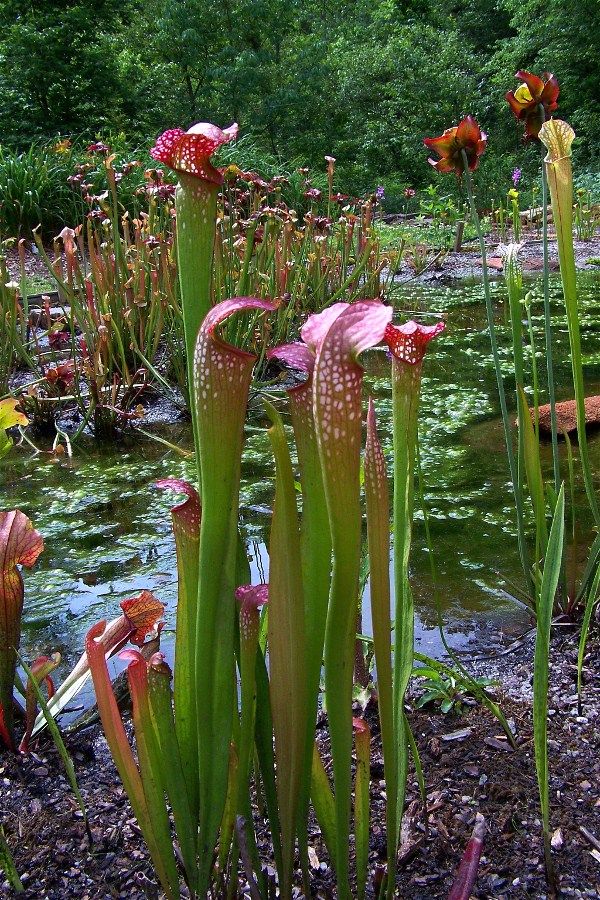 S. "Hot Lips" - some sort of a S. x moorei type that appeared as a seedling in our small bog garden in Atlanta years ago. It makes tall pitchers with a very wide mouth whose lip is vivid red (brighter than it appears in the photo). A fall pitchers are outrageous - up to 4 inches across at the top! The flowers are also unusually large, with long velvety red petals.
S. 'Wilkerson's Red Rocket' - a real gem whose pitchers turn deep red purple all over as soon as they open. It really stands out in the bog. The plant is a recent gift from a friend and didn't produce blooms this spring. But I have plans set already for next year!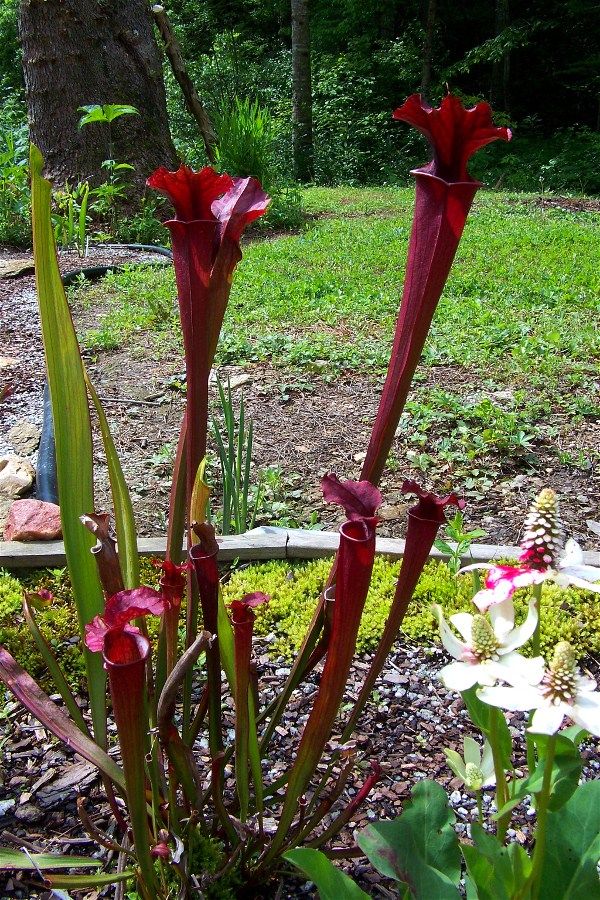 S. flava atropurpurea from the Fl. panhandle - another recent gift from a friend. I expect the colors to be more vivid once it settles in. The stake helped hold the bloom up while it was covered in a mesh bag so that I could cross it with the 'ornata' form of the species. I hope for a nice population of colorful seedlings. The leafy plant in the left background is Gentiana catesbaei, the Bottle Gentian, a great companion plant that blooms with deep blue flowers in very late fall, and on the right the taller leafy plant is Chelone glabra, White Turtlehead, another companion plant with beautiful blush white flowers in late summer. Both came from the banks of the spring branch just beyond the bog.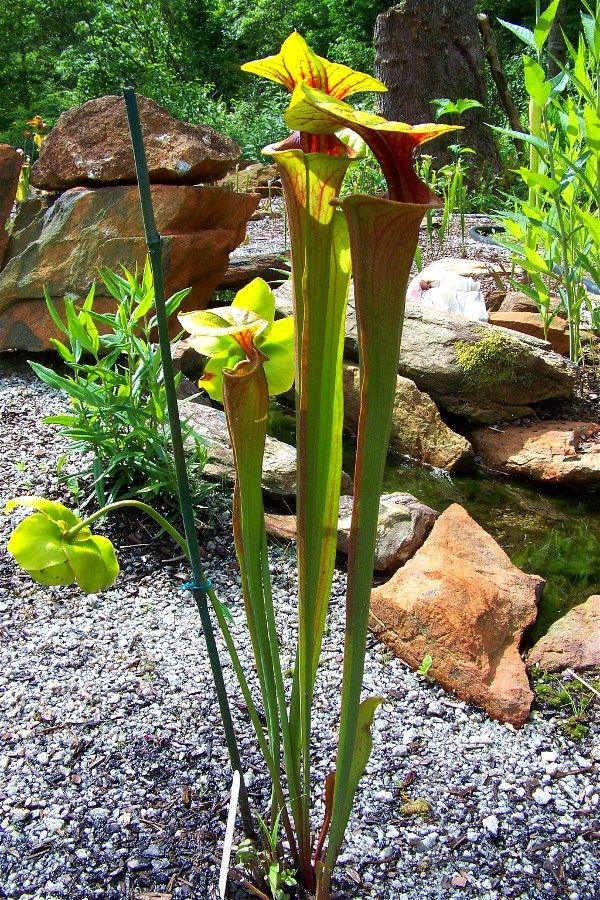 Drosera capillaris - from the ICPS Seed Bank - raised under lights this past winter then planted out as a clump in the spring. They are beginning to flower and I hope they will spread throughout the garden.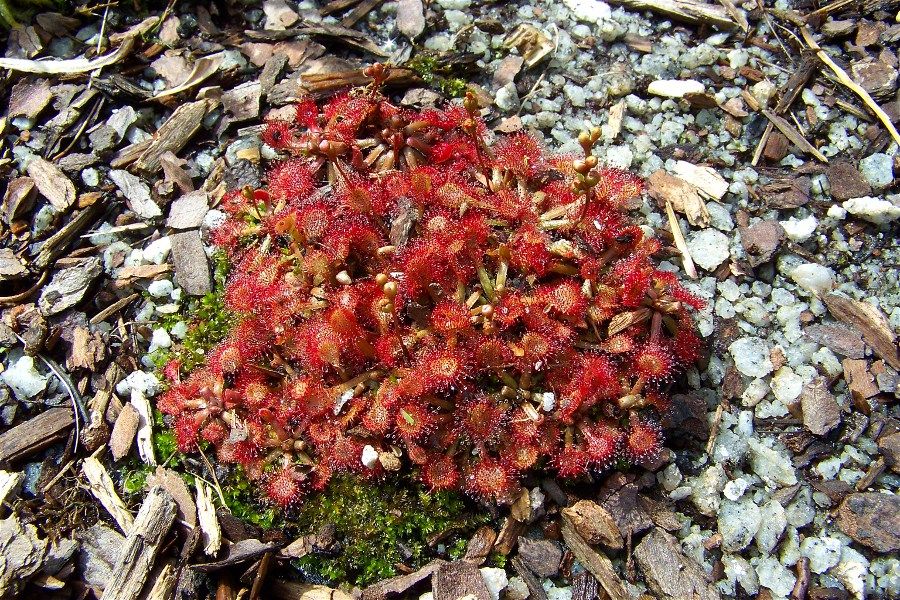 Drosera tracyi in flower - I should have taken the photo an hour earlier for the best backlighting effect.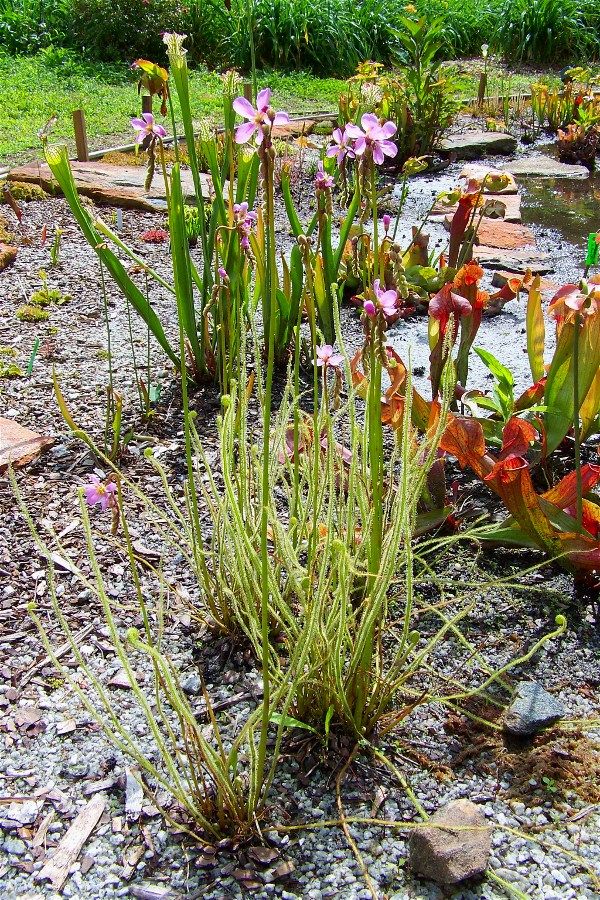 Grass Pink Orchids - Calopogon tuberosus - I got a number of tubers as a gift from a friend's bog garden and the should spread nicely around in time. A great companion plant for an outdoor CP garden! Yes, its algae season in the shallow areas - but it hides the many small newly hatched tadpoles from their voracious big cousins - the Bronze Frog tadpoles that overwinter and get 4 or 5 inches long!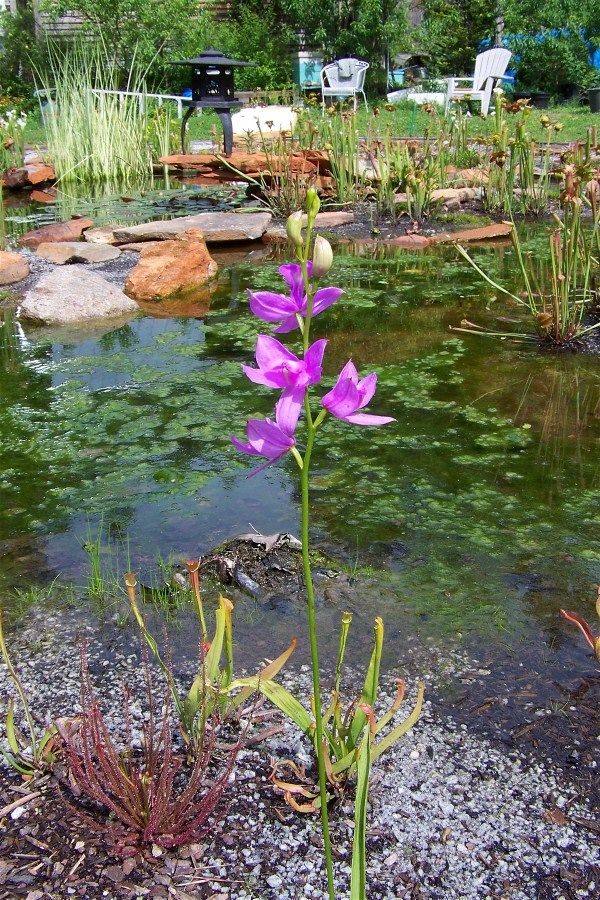 Drosera intermedia seedlings - I started with 50 plants from Meadowview last year and now there are thousands of seedlings throughout the bog garden. The seed floats so when the bog is inundated during heavy rains they a dispersed to the higher mossy knolls and sandy/peaty spots where they are coming up like crazy now. Even here and there in live sphagnum clumps and other moss clumps as well. This photo is of a spot right beneath a little mound covered in S. rosea.
Hope you enjoyed this update! Just don't ask how many hours have been spent on hands and knees with tweezers removing invasive bog weeds!